It is proven that a creative scene breeds economic growth and can strengthen Jerusalem, which is what we are aiming to achieve. We provide a professional platform that allows creators from the field of design to evolve and to determine their professional future in Jerusalem. We run economic accelerator programs intended for creators at the beginning of their careers, which help to empower and develop creative businesses. We provide professional, business and networking tools that help designers and media professionals to develop their careers. They evolve in this program as self-employed, business owners, and employees, in the Jerusalem eco-system that connects the design field to the high-tech world and startups.
Toolbox
Acceleration program for designers and media professionals in Jerusalem.
The program provides practical tools for designers who are graduates of schools of design, art, advertising, marketing and media from all over the country, and who are interested in starting a business in Jerusalem. In addition, the participants receive business accompaniment at the end of the program, as well as exposure for their new creative businesses to customers and potential investors in Jerusalem and outside the city. This program is a joint venture of New Spirit and the Jerusalem Development Authority.
Tracks:
Product Design
Have you studied industrial design / fashion / ceramic jewelry and have a dream to produce products?
But where do you start? How and where are marketers, exempt practitioners / authorized dealers?
Toolbox and Studio Frame are offering you a plan that will alleviate the mess and will open up the possibilities for development in the field and will give you tools to open your business in Jerusalem.
Graphic Design and Animation
Have you completed your studies in visual communication or animation and have the desire to be independent or start your own business?
Here is the place to get the tools that will help you bridge the gap between academia and work in the professional world:
Self-marketing, dealing with tax authorities, pricing, working correctly with customers, managing time and more. Includes leading mentors from the field, analysis of case studies, exposure events, inspirational meetings and networking. Plus a work space at the Magic Alliance, with Mac computers, all the required programming and a diverse and inspiring human environment.
All you have left to understand is that you are going for it.
Joint Work Space
Are you tired of working from home?
Looking for an inspiring environment to work from?
The space of the Toolbox (located at Beit Alliance) opens its doors and invites you to come, designers of all kinds (graphic, ux, ui, illustrators and industrial designers) and media professionals (writing and editing content, marketing, seo, ppc, Facebook etc.)
We suggest:
Connection to the designers community of a new spirit
Personal work stations (mac)
Wireless Internet
The Chillout Room is equipped for rest and for meetings with clients
A sunny courtyard for vitamin D absorption
Professional workshops and closed events
A luxurious coffee machine
A joint stay with artists and designers from Alliance
You can get to work in space every day without the need for prior arrangement.
Desk for free use (not a permanent desk), including Mac.
The hours of operation are subject to the hours of activity at the Alliance House: Sun-Thurs from 8:00am-8:00pm
For more information: avital@new-spirit.org.il
RESTREET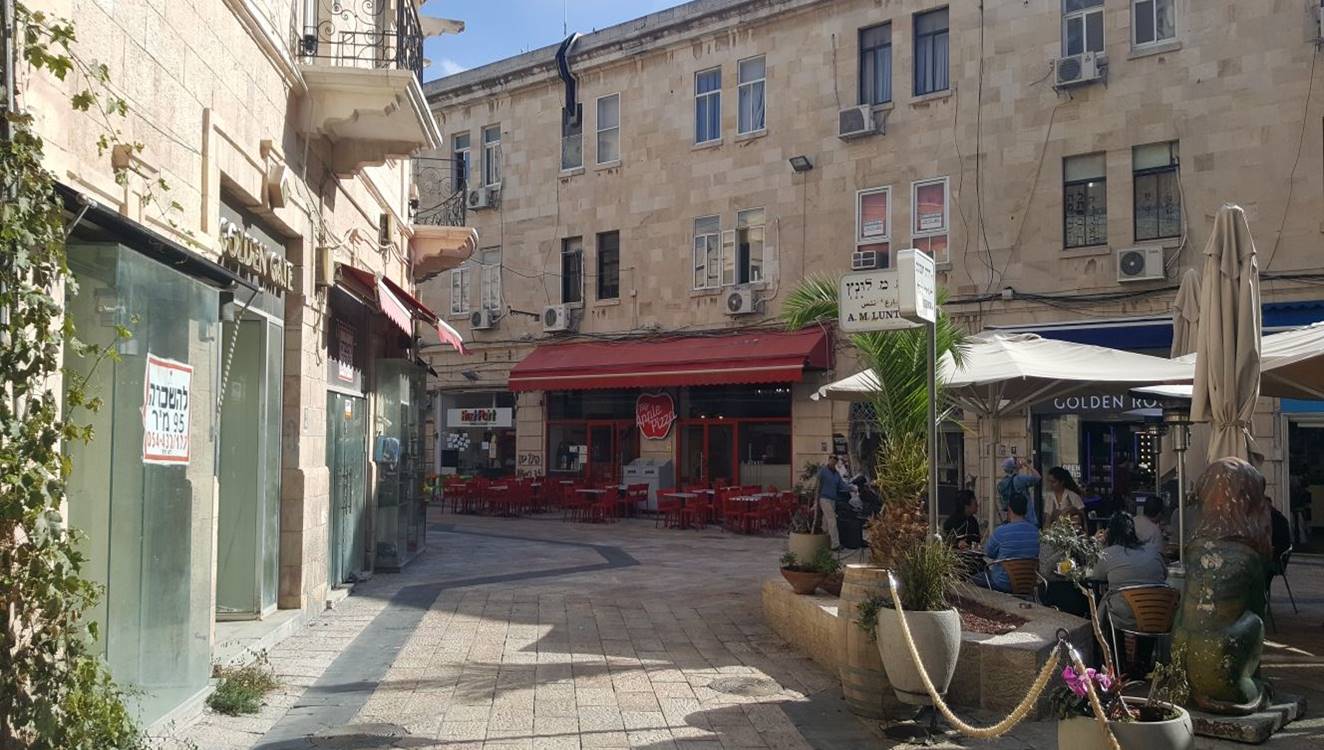 The plan will create a professional community that will build around joint work spaces located at the street level, in the streets around Jaffa Street in Jerusalem.
The introduction of specific businesses to the street level stores will renew it, revitalize it and even subsidize the existing supporting businesses and encourage the establishment of additional ones. As part of the project, emphasis will be placed on the development of a professional community that operates around a common parallel idea. This will serve as a magnet for a young, creative and productive population to reach and change the new city center.
For more information: avital@new-spirit.org.il